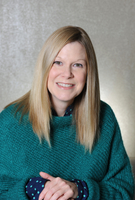 Erin Harney began her professional marketing career in 1996, shortly before graduating from St. Olaf College with a degree in Speech / Theatre & Communications. It was while studying theatre, a passion discovered early in life – that Ms Harney discovered another true passion, marketing & PR. Working as the publicity assistant in the St. Olaf College Theatre for work study, Erin found a way to integrate her love for the arts into a viable and in-demand career.
Upon graduation Erin moved to the Twin Cities and continued to work in a variety of industries. Hospitality, retail, on-camera acting and modeling, teaching, agency work and eventually being hired as the Marketing Assistant at Rosedale Center for Jones Lang LaSalle. This position eventually grew to include Specialty Leasing and provided Erin an introduction to the exciting field of commercial real estate.
With some experience in the field, Erin later transitioned to Brookfield Properties where she served as the Marketing Manager for the Minneapolis and Denver Regions for more than seven years. This included oversight of more than five million square feet of Class A Office Towers and Retail in the heart of these two cities' downtown central business districts. As an in-house marketing manager, Erin oversaw all aspects of marketing including; strategic planning, budgeting, media buying, art direction, copywriting, event planning and execution, media relations and all internal and external communications. She managed numerous employees and as a department head was part of the Senior Management Team.
All while working for Brookfield, Erin continued to stay actively engaged in the arts while serving on numerous committees and boards of various arts organizations and community service non-profits. She also wrote, directed and produced a show in the 2006 Fringe Festival and showcased this same piece in New York City as part of Eve Ensler's V-Day Festival at NYU and performed on occasion in both Minneapolis and New York.
In 2011, Erin accepted the opportunity to become the Marketing Director for the brand new Minnesota flagship center for dance – The Cowles Center for Dance and the Performing Arts. Throughout the course of the next two years, including the Inaugural Season, Erin continued to work on all aspects of marketing for The Cowles Center in addition to assisting with the leasing of studio / office and restaurant space, planning the annual fundraising Gala and acting as a liaison in the community through the Intersections: Downtown 2025 Plan.
In 2013, seeing a need to spend more time at home with her children and family – Erin left The Cowles Center and created Saoirse Consulting. Saoirse's goal is to work with small businesses, both for profit and non-profits and assist them in defining "Strategies for Growth" and then helping to implement those strategies.
With extensive experience in both the arts and commercial real estate, that is naturally where the focus of Saoirse's efforts land, however Erin welcomes the opportunity to work in any number of fields and help a variety of businesses navigate a path of success.